Jun 1st 2011stf6992Business & Faith & Life
Because of all the traveling I do, I've been thinking about separation a lot lately.
I experience separation in various ways:
from my wife and family when I travel
from those I work with when I stay home or travel away from them
from our Creator when I focus on the things of this earth and forget or ignore the time I need to spend in His Word or at His church
As I think about all the traveling I do and the separation that occurs between my wife and I, the separation of today is very different than the separation 30 years ago.  Back then, I traveled the world and wouldn't talk with her for weeks at a time.  It was too hard.  We didn't have cell phones or email at home, and we certainly didn't have the web and pretty much global access.  Today, I travel the world and the minute I land we're on the phone together.  We could be on video together as well if so desired.  And soon, we'll be able to be connected throughout the flight as well, thus making separation a purely physical presence thing.  Physical separation is still tough; nothing compares to being home, being active in the lives of each member of our family, and sharing together in meals, games, church, and quiet time.  Technology can't yet replicate that, though I'm sure someone is trying.
As I think about my work place today, I'm on the road and away from my office at least 2 weeks a month right now.  That creates great strain on the communications channels and the relationships at the work place, because nothing beats face to face meetings, and all the communications in the world can't overcome the need of most individuals to shake hands, hug each other, look each other in the eye, share a cup of coffee and work through any and all issues that may exist in the work place.  Technology is allowing much more effective interaction when separation occurs, but technology can't yet replace the intimacy that is needed to handle cultural issues, complex relationships issues, and the bonding that only seems to come with physical presence.
As I think about my relationship with our Creator, we have this promise found in Romans 8:
Who shall separate us from the love of Christ?  Shall tribulation, or distress, or persecution, or famine, or nakedness, or peril, or sword?  For I am persuaded that neither death nor life, nor angels nor principalities nor powers, nor things present nor things to come, nor height nor depth, nor any other created thing, shall be able to separate us from the love of God which is in Christ Jesus the Lord.
Is there anything more powerful or more of a commitment than that?  God doesn't separate Himself from us.  We separate ourselves from God though…through our priorities…through our sin…through our indifference.  It's clear that God is with us, and His love embraces us at all times.  In this case, it's not a technology issue; it's a choice issue.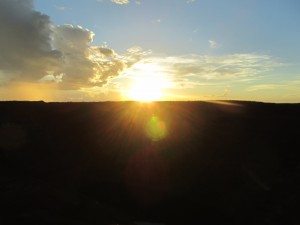 When I'm separate from my family or my team at work, I have a yearning to connect, to be in contact, to share together and to be part of the forward momentum of life.  Various things require that separation, but technology has provided solutions to allow me to connect in meaningful but not yet perfect ways.  It's certainly easier to see the growth in the family and to sense the growth in the team at work.  Once again, not perfect, but much better than before.
When I'm separate from God, in time I recognize that I caused that separation and the yearning to be connected returns.  When the yearning returns, I connect, get in contact, share with Him, and commit to the forward momentum in life that takes me closer to Him.  It's not a technology issue, though technology allows me new and creative ways to stay focused on Him and carry His Word with me.  Instead, as I mentioned before, it's a priority issue…a choice…a habit of seeking His path and His plan in all that I do, and in turn, responding in obedience when that path and plan are revealed.
At this point in my life, I yearn for less separation in all three of the areas above.  The first two require a priority on physical presence, if physical presence is the ultimate answer to the separation I feel.  The third requires me to bow my head, open His Word, and release myself to Him more often.  Anywhere I am.  Everywhere I am.
All three are about priorities and choices.
Two of these may or may not be within my control (though they really are).
The third is totally within my control.
How are you doing on your separation today, and what are you doing, choosing, or prioritizing to minimize that separation?